I started to do the menus and Score. I've made some changes, Now have a screen with the name of the game, and each red block that you avoid, you get 1 point.

I'll not upload this time because I had problems with the directory, so the project will only work on my machine... but I'll fix it

I'm using lua to change the text of the game, so with that the game can have multiple languages... Oh, here's the code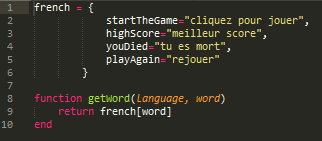 So simple... I don't know if it's right but... there it is...

Next time it will work...